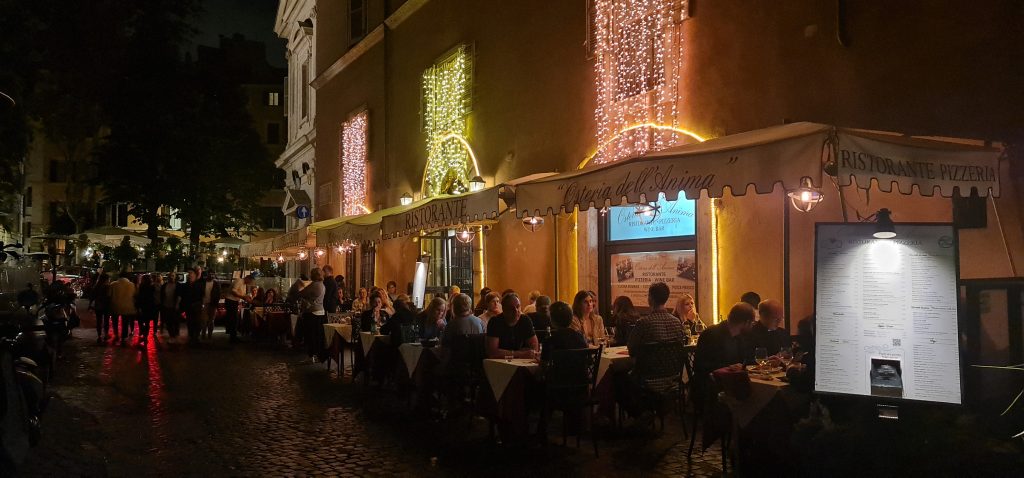 Dear guests,
I look forward to have the pleasure and privilege of welcoming you and your family to a traditional italian restaurant "Osteria dell'Anima" at Piazza Navona.
Where my colleagues & myself are determined to consistently purse the goal of providing you with quality food, italian wine & services, with a clean & friendly enviroment & create a memorable experience.
As I have well learned professional staff with the knowledge to meet the needs of our guests. We aim to make every guests at the restaurant to feel that they are not away from home.
Restaurant manager
NIRO ABEYGUNASEKARA
Osteria dell'anima – The good kitchen are us
A few steps from

Piazza Navona

, this restaurant is situated in front of

S.Maria dell'Anima church

. L'osteria dell'Anima is the ideal to live the charm of the alleys of the old Borgo. Here everything is prepared for the maximum satisfaction of the client, we make our guests feel at home in an elegant and refined location; we want that the satisfaction that our chef feels tasting the preparations reflect the location. Our rooms, one at the street level and the other two in the higher level both with about 35 cover, are decorate with style and refinement, with warm and relaxing tones, for a total relax, both for the hurried tourist that never reject the pleasure of the good kitchen, both for yours business reunions or dinner (even lunch); we are available for private parties and to celebrate in a unique way your special occasions! Here at the Osteria dell'Anima we have only one rule: 
Quality!
The raw material that we use at the Osteria dell'anima for our culinary preparations are highly selected, the fruit and the vegetable are always fresh and first-quality, here there is no half measures, the care that we dedicate in the preparation of the dishes starts from the base, by the choice of the ingredients, for this reason we use only products of famous marks: pasta De Cecco, Carli Oil, wine by the best production and the best that mother natur can offert, with vegetables and fruit gathered in the correct degree of maturation and cooked to exalt all the characteristics and ownership of it. Come to try our dishes and your visit to Rome will be complete! To your disposition there is also our dehor, an external space to the place that allows to bathe in the beautiful season completely in the beauties of Rome, look at our photographic gallery and let you to seduce from Rome, from our place and from our chef!!!